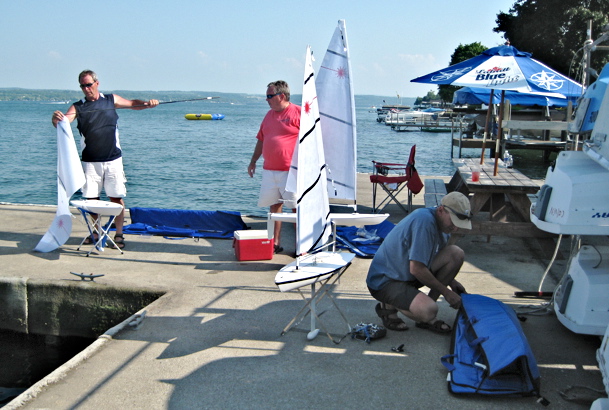 Nelson Habecker, Jack Bennett and Bill Blevins, left to right in the photo above, started racing radio controlled Laser sailboats down on the waterfront docks in July of 2010.
One year has passed and the RC Laser fleet has now grown to 12 boats!
Current RC Laser sailors are Neil Atkins, Maggie Atkins, Jack Bennett, Bill Blevins, Kieran Draper, Jonathan Gorbold, Nelson Habecker, Dave Kelsey, Bill Schmidt, Gary Schmidt, David Turnbull and George Walter.
The Canandaigua RC Laser Fleet would like to invite CYC members to show up at the clubhouse on Friday, August 26th and join them as they sponsor a happy hour (which in the true spirit of RC Laser sailing will actually be 3 hours long) that will start at 6:30 p.m. where you can meet the fleet, check out the boats and ask questions about RC Laser sailing.
Bring a perspective member with you and become eligible then to win a nice wine basket.
Bookmark http://RCSailors.com for links to the latest photos, current race results and all of the information about the Canandaigua RC Laser Fleet.