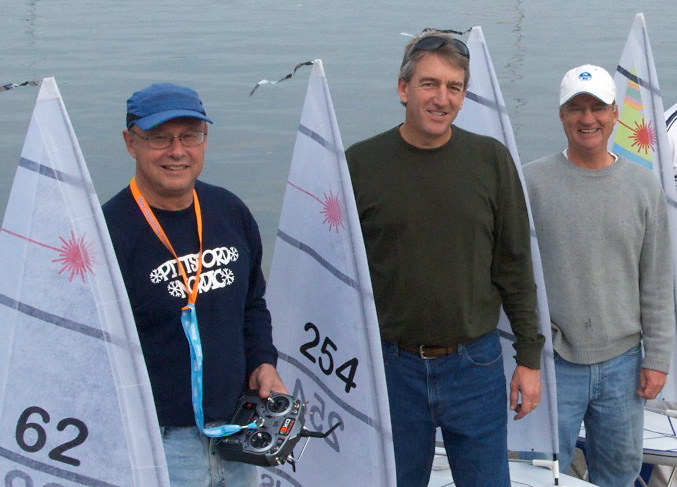 Jonathan Gorbold, Bill Blevins and Gary Schmidt (left to right) finished the 2011 Canandaigua RC Laser sailing season in first, second and third places respectively.
The year-old Canandaigua RC Laser Fleet now has 19 boats!
We also have fleet t-shirts, business cards and a great web site. During the past twelve months we ate plenty of great food between races on Sunday afternoons and we had a lot of great parties.
We also had great sailboat racing!
We had 1,240 starters in 166 races across five different series throughout the year.
Those stats don't include the Women's Series, nor do they account for special events like the Eight-Legged Race where each boat required four skippers to help navigate the course.
The stats don't include countless "Hey, I bet I can beat you out to that mooring field buoy and back" challenges either!
The stats above don't account for now infamous two-mile "offshore" Squaw Island Race, our only event where we had a "Race Director," and where a dozen boats were thrown in the water during a shotgun start and were then sailed up Canandaigua Lake to Squaw Island and back! (Reports are that there are quite a few people from around the country making plans participate in the 2012 Squaw Island Race on May 26, so volunteers, mark your calendars because we'll need a lot of chase boats and drivers!)
Enough promotion and marketing for now…
"Congratulations!" are in order!
Jonathan Gorbold (#62) finished the sailing season by winning the Fall Low Point Series and capping off his personal "batting average" of .820  which earns him the overall high point position in the Canandaigua RC Laser Fleet for 2011!
Jonathan started in 142 of the 166 races that were held since October 2010. Jonathan had 55 first place finishes and in 120 of the races he finished in third place or better!
Bill Blevins (#254) finished second overall with a personal batting average of .788 and for much of the later part of the season he was essentially in a dead heat with Jonathan, battling for first place with only a few ten-thousandths of a point between them! Bill also finished in second place for the Fall Low Point Series.
Third in the Fall Low Point Series and third overall was Gary Schmidt (#59) who ended the season with his batting average of .661. Gary finished in the top five in 110 of the 132 races he sailed.
Click the chart below to enlarge it. The bars show the finishing places for Jonathan, Bill and Gary for the 166 races that made up their batting average scores.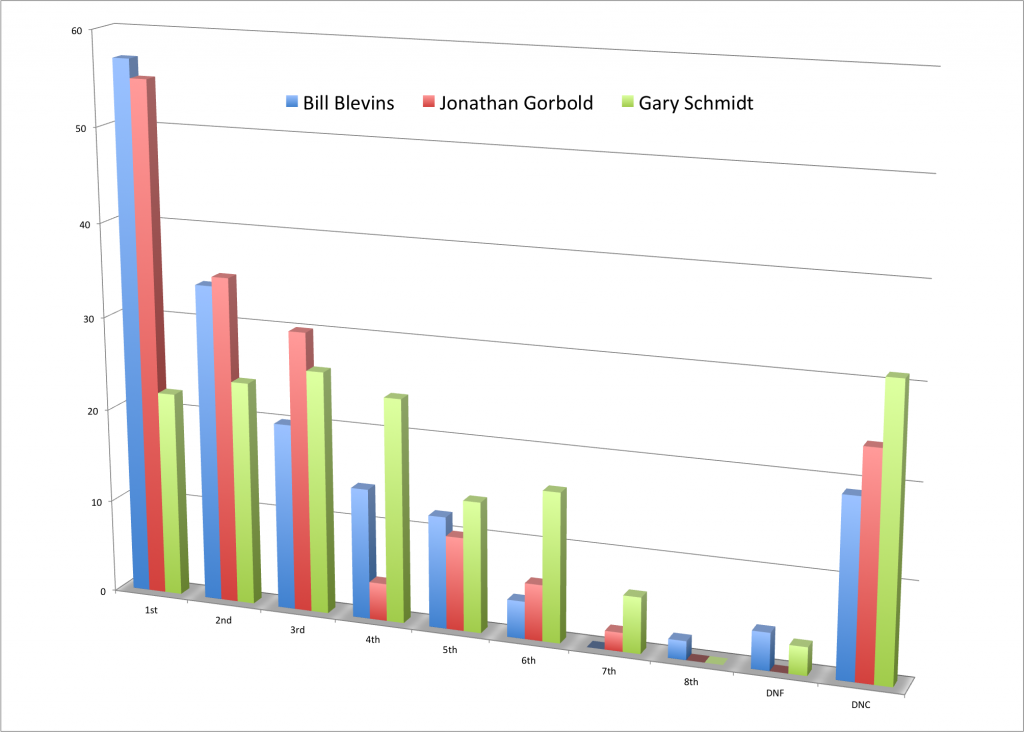 Our custom built formula for batting averages calculated the percentage of boats each skipper beat in the races that they started. Our model didn't penalize anyone for being absent as each boat was only scored in races where they sailed and the only against the sailors they raced against.
Looking through some of the other stats, they show that Nelson Habecker (#54) was on the course for every single day of racing, starting in 96% of the races held. David Turnbull (#17), George Walter (#47), Jack Bennett (#005) and Neil Atkins(#72) all competed in more than 60% of the races.
2011 Women's Series Results
In the Women's Series, Terry Schmidt (#71) took home top honors as well as a gift certificate for the Spa at the Del Monte after finishing with the lowest total score after 22 races against a total of 11 competitors. Tracy Blevins (#75) finished in second place in the series, followed by Leslie Bennett, Christine Stebbins, Anne Lambert (#272), Anna Gorbold and Maggie Atkins (#94).
And a special round of applause goes to…
Many, many thanks go to Nelson Habecker who on most race days headed out in his kayak to set our marks and on at least one occasion, broke up ice on the course so we could sail. Nelson also found sponsors for races, served as the fleet treasurer, hosted a couple of our parties and also occasionally supplied a fire pit and the refreshments required so skippers did not think they were freezing their toes and fingers off during the frostbite and warm-up series.
Finally, much appreciation and thanks are due Pauline and also to the CYC staff for keeping the lights on in the club so that our fleet could enjoy dinner and drinks every Sunday night after racing for the past year!
Are you ready for the 2012 season? It starts this Sunday!
2012 racing begins with the Frostbite Series on Sunday, October 16 at 4 p.m. at the Canandaigua Yacht Club.
For the second and third week of the series, Oct. 23 and Oct. 30th, we'll be racing on Sunday afternoons at Carey Lake in Macedon, and we'll begin promptly at 2 p.m. RC Laser sailors from the Rochester Area Model Yachting Association may also join us on those dates.
Racing will then return to Canandaigua Lake in November and we'll continue afternoon starts beginning at 2 p.m. at Nelson and Anne's place in Holiday Harbor.
Let's all go to Mid-Winters in Marco Island, FL!
Since the Canandaigua RC Laser Fleet will be hosting the RC Laser North American Championship next summer, we would like to see a large contingent from our fleet planning to participate March 2-4 in the Mid-Winters Championship in Marco Island, FL, watching and learning how a large RC event is run and managed at the highest level.
One more for the road…
Finally, mark your calendars for the 2nd Annual Burning of the Socks Happy Hour (or two) on the docks of Canandaigua Lake at 6:30 p.m. on March 20, 2012. This annual party is held the Vernal Equinox marking the beginning of sailing season and the last day that sailors wear socks again until Sailor's Night 2012!
But first, let's put our socks on and head to Sailor's Night for the awards ceremony! It is Saturday, Oct. 15 at CYC at 6:30 pm!
See you there!