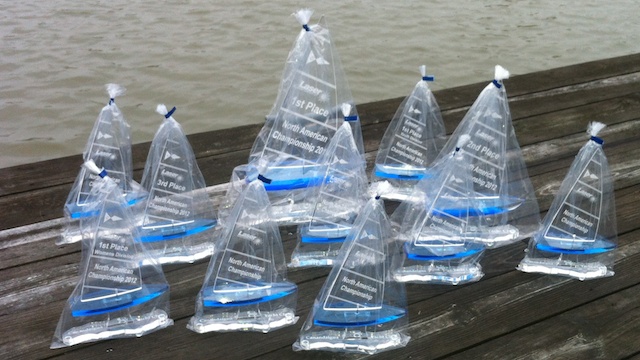 For those of you who raced last Sunday, you should appreciate that headline! If you didn't have a transmitter glove (and multiple layers on) and a hat last week you really need to sign up for the North American championship so you can be better prepared!
After racing this Sunday, we'll draw a name to win a transmitter glove from those current members in the Canandaigua fleet who have registered for the North Americans.
We currently have 19 skippers registered. I've counted about 10 others who I expect to sail but I think just haven't yet pushed the payment button. Visit the homepage and look at the right side of the page to check out the competition!
The awards are here. The huge scoresheets have been printed. We have our regatta banner. Registration packs are being put together now along with name badges, lunch tickets. Friday night's happy hour has been arranged. The regatta permit arrived and the city council approved the venue. We rented a huge tent to hold all of our "stuff" while we race. Last night at the club I believe I even heard the dinner menu being discussed! Everything is coming together so come on and lets get registered!
Sunday's races on April 29, are the first of the 6-week Spring Series but they are the last that will begin at 2 p.m. until after Sailor's Night in the fall. We will again be racing from the dock behind Steamboat Landing and the plans are to continue racing there until after the North Americans. Start times will be moved to 4:30 p.m. until we get back to CYC in mid-June.