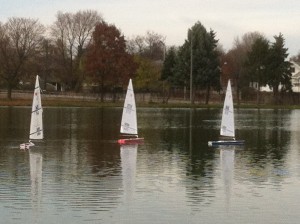 In a stunning upset, Bill Schmidt races to victory in the Frostbite series 2013.  With a net score of 95 it bested Jonathan Gorbold (2nd) with a score of 99.
I must mention that Jonathan did not compete the final week due to a pre-scheduled vacation to Scotland. But I am sure that he will re-think the timing of such a trip given the consequences.  Third place goes to the Hallagan/Pope team who managed to just keep finishing "well" unnoticed.
In the Riley Lake series it was once again Bill Schmidt who avoided the most calamities to take another victory.  Hats off to Terry Schmidt who rallied back the last week to finish 2nd unseating Jack Bennett who held on to 3rd.  For the complete results (click here).
It is also that time when we ask our members to pay their dues for the 2013 season. Annual dues for Fleet #14 RC Lasers expired at the end of October 2012. Your payment of $20 makes you an active member from 11/01/12 thru 10/31/13.
You can pay your dues online! Click here.
Or if you prefer to write a check you should make it payable to:
RC Laser Fleet #14    and send it to our treasurer
Maggie Atkins 4314 Deep Run Canandaigua, NY  14424
Thank you for your membership.
♥  Happy Holidays To All!!!!!!!!!!!!!!!!
Ho Ho Ho  spring is right around the corner.