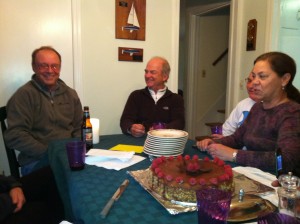 Last Sunday was Jonathan's birthday and we were all surprised by the cake that Anna whipped up.  After the excellent stew that Mary Schmidt served "for all" Anna exposed a chocolate/raspberry/walnut  birthday cake made without flour.   I vote Jonathan have 2 birthdays a year.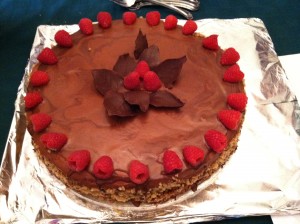 With just two weeks left to race the only separation seems to be between the sailors on shore.  Jay Niggli is currently leading with a net score of 19, followed by Terry Schmidt, Anne Lambert, and Bill Schmidt all tied with a net score of 26.  There's plenty of real estate on shore for spreading out and everyone looks for that spot where seclusion helps their concentration.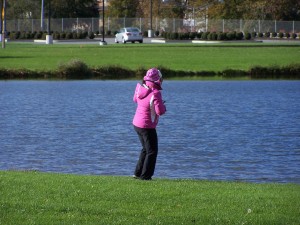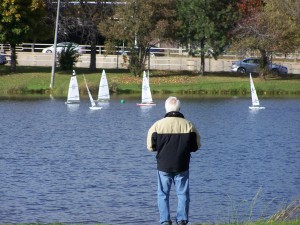 Racing for the remaining two weeks will be again at Lake Riley 2-4 pm on Sunday the 10th and 17th.
The temps for this Sunday are predicted to be in the 50's and for those who need warming up after racing, Terry & Gary Schmidt have offered to host a post racing warm up event at their home (8 Caywood La. Fairport, NY 14450).  Please contact her at tmschmidt@rochester.rr.com if you are planning on attending so that she might be able to set out enough chairs.
Jay was nice enough to take the photos you see here and I have also added some additional ones he took to our photo gallery Riley Lake photos 2013.  You can tell the fall photos by the brilliance of the trees.  Thanks Jay.
See you on the water Sunday at 2.