It took seven races to finally determine the order of finish for this year's Frostbite series and in the end it was:
Jonathan Gorbold
Jay Niggli
Terry Schmidt
We held 6 races and we were all exhausted from the pressure so Anna (PRO) threw in a 3 race sprint series which was to the windward mark and back to the start.  After all the calamity it was Jay who wound up winning the mini series and two drinks donated by the Gorbolds.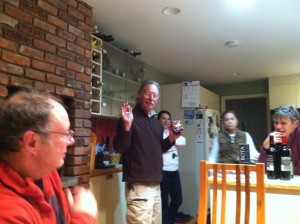 Following the mini series there was time for one more official race in the Frosbite Series and Terry Schmidt took full advantage by scoring a bullet to lift her into third for the series all alone.
It seems that Jonathan is once again the one to beat if you're thinking of a first place in any of our series.
Fortunately, this is the time of year when we all take pause from the riggers of racing to enjoy the upcoming holidays.
"HAPPY HOLIDAYS TO EVERYONE FROM EVERYONE"
The Admiral