Great Racing Weekend!
Saturday Aug 23: Maggie and  Neal's Elimination Extravaganzza…was another success!
Thank you- Thank You -Thank You Maggie and Neal for opening your home to us again and hosting what is by far-
The Best Party of the Year!!
We had wind (understatement!) and 8 boats that started the voyage from CYC to the Finish in front of Atkin's Home on the East Side of the Lake thanks to the service of many (shuttle boats, ski-doo's and paddlers).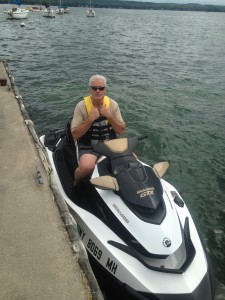 The entries were:
Mary Schmidt
Dan Tratt
Gary Schmidt
Terry Schmidt
Jay Niggli
Jonathan Gorbold
Keith Calkins
Nelson Habecker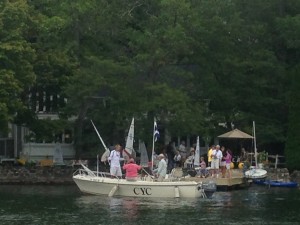 The across the lake portion of the regatta set up the pecking order of the elimination round.
Mary Schmidt
Gary Schmidt
Terry Schmidt
Jay Niggli
Dan Tratt
Nelson Habecker
Keith Calkins (DNF)
Then came the exciting match racing  oh.. what fun for all….
Spectators were enjoying the challenge and the relaxing party on shore.
Those in the race and committee boats got the birds-eye view of all the strategies being played out.
First up:
Jack Bennett defeats Dick Hallagan
Jack Bennett defeats Anna Gorbold
Jack Bennett defeats Keith Calkins
Nelson Habecker defeats Jack Bennett
Nelson Habecker defeats Dan Tratt
Nelson Habecker defeats Jay Niggli
Nelson Habecker defeats Terry Schmidt
Gary Schmidt defeats Nelson Habecker
Gary Schmidt defeats Mary Schmidt
Jonathan Gorbold defeats Gary Schmidt
It proved to be a nail bitter all the way to the finish… with Jonathan just nosing out Gary by whispers of the last wind available to close out the regatta in Gorbold Style!
And then came the smell of the steaks… we all quickly switched gears and got into full blown party mode!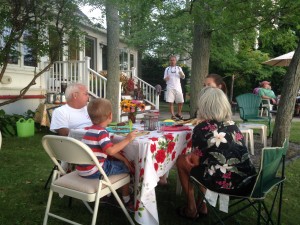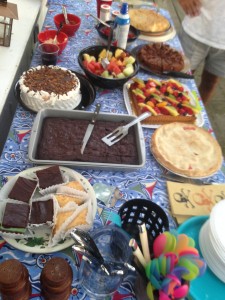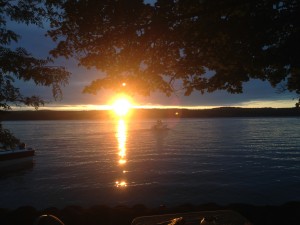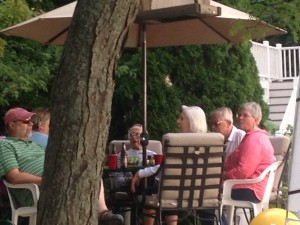 You will find many more photos taken in our photo gallery!!
Just "click here"
Sunday racing continued the Fall Series
Jonathan continued his winning streak and won the first 2 races, followed by Gary winning the 3rd race of the day.
Only 3 races were completed due to the wind conditions that fluctuated dramatically from 10 knots to negative 10!
It was a great day for those that know how to sail in highly varied winds  to no wind at all.   "RESULTS"
No Racing Labor Day Weekend (due to all the regatta's and Fa-La- La- La- La- Have Fun ..Be Safe and see you at the docks on September 7th!
Upcoming is the first ever Rhode Island National Regatta  Sept 21st–  It is not that far away.  So, if you are looking for another get away before the end of the season, I am sure that you will get a very warm welcome.  CLICK HERE FOR MORE INFORMATION
And please join the National Class so that we support and are supported at the National Level.  Go to http://rclaserna.com/ to join.
We have gotten great visibility in the AMYA  Newsletter… let's continue to help them help us!