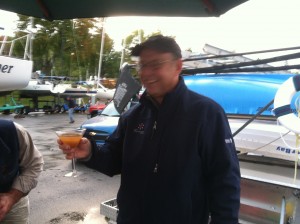 RC Summer Series – F-I-N-I-T-O!!!
Sunday August 10th marked the end of our Summer Series.
With 6 hardcore racers on the water and several fun spectators…including Helena who came all the way from London and Luca who was celebrating his 5th birthday—YAY!!!-
Neil Shifted gear and acted as PRO—so Anna could enjoy some sailing…
The efforts of all  helped us  put a strong close to the Summer Series and we celebrated as usual on top dining as we giggled and enjoyed a magnificent view of  lovely Canandaigua Lake!
The wind allowed for  5 races, Jonathan won 3 – Neil and Anne each enjoyed a bullet of their own.
Summer Series Closed as follows:
#1: Jonathan Gorbold
#2: Anne Lambert
#3: Jay Niggli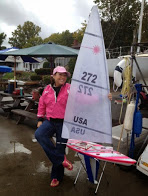 As we approach the Fall Series- the Overall High Point results year to date are as follows:
#1: Anne Lambert  (6508)
#2: Jonathan Gorbold  (6288)
#3: Jay Niggli  (6045)
Anne has competed in 100% of the races held in the high point series and her persistence is paying off.  With only 8 weeks remaining it is a very close race between the top 3.  Who will wind up on top????  You must be in it to win it!!!!
Once again I would like to remind everyone that Saturday August 23,  Maggie & Neil Atkins will be hosting their Annual Hospitality Elimination Regatta which will include a great meal and drinks for all.
There is no participation fee for this regatta, but please RSVP by Thursday August 21st  to Maggie at matkins@frontiernet.net or
Admiral Nelson at eal1667@gmail.com so that we know how many Sailors to expect.
If you are planning on attending and would like to contribute by bringing an appetizer, side dish or desert please inform Maggie at (585) 396-9973 or matkins@frontiernet.net to help coordinate her efforts.
Week 1 of the Fall Series will be off the south dock CYC at 4PM  Sunday August 17th.
See you on the water!!!