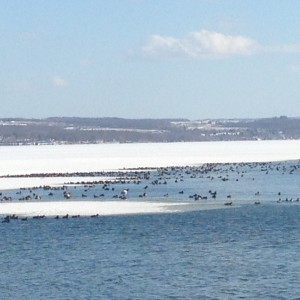 Although there is still ice covering much of Canandaigua Lake and Holiday Harbor, plans are going forward to conduct races on Sunday April 12th at 423 Holiday Harbor or the south dock of CYC.  I am hoping that enough ice will be gone from the harbor and that the weeds have died off.  If not, the plan will be to race at the south dock at CYC.  We may have to ask the crowd of spectators trying to find an optimum perch to move back and allow us more racing room.  Remember, this is a day to feast on ham, not duck. The spectators are to be considered hazards and avoidance should be your first concern.
Following racing we will retire to Holiday Harbor  for our
Post Easter Feast!
423 Holiday Harbor  Canandaigua, NY 14424
2 – 4 pm racing with food and wine to follow:
Menu: Ham/scalloped potatoes/crusty bread, cake and wine
We welcome appetizers.
See you on the water this Sunday 2PM
The Admiral