At 3:30 pm what wind there was came from the south. So, I set out marks that gave us a range of south east to south west.  At 3:50 pm the wind, light as it may be, came from the west.  I returned to the dingy and reset the marks for a west to east course.  At 4:15 pm the wind picked up, as it usually does, and we raced a north/south course which included a mooring ball as a windward mark.  (I was getting tired of rowing)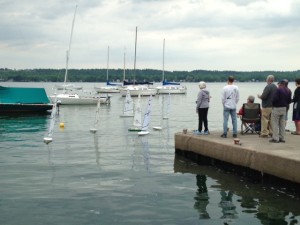 Don't let the photo fool you.  It may look like very light wind but if you look very carefully across the lake in the photo you can see that the wind is filling in from the east shore and soon to be upon us. Net effect was we were able to spin off five races before the clock struck 6pm.
If I were calling a horse race the call today would be Jonathan 62 takes the lead by a length, Sean 16 and Nate 73 are neck and neck in second followed by 54,005,and 68 fighting it out for forth, then a gap of four to Jay 81 then a gap of five to Neil 172 and the rest of the field.  Tune in next week as they go into the club house turn.
Post time will once again be 4pm off the south dock CYC.
Until then, charge your boats.
The Admiral