The Admiral (54), able to avoid most of the bumping  going on around the turn and hugging the rail, has opened up a comfortable 5 length lead coming into the stretch.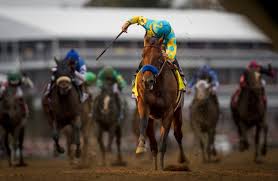 Jay (81) driving hard on the outside is second, and Jonathan, the 1-5 favorite who is just not firing today, has dropped back to 3rd and is being challenged by Gary (59) who is steadily gaining ground.  Then it is Terry (71) in fifth followed by Sean (16), Richard (78) and the rest of the field very far back. Gary (59) and Richard (78) had several occasions of crowding each other which cost them valuable real estate turning for home.
Next week we will be in deep stretch where we hope to run off another 7 heats to compliment this week.  There are only 2 weeks left in the summer series so it's time to give your boat a little push and get it over the wire.    Post time will once again be 4:30 pm off the south dock CYC.
See you at the track!!!
"Pine Needles" by Talc