It may be Fall by the calendar but it was a summer like day for RC racing.  The temperature was close to 90 degrees with not a cloud in the sky and to top it off there was no wind.
I had borrowed Jack's boat to cruise up and down the lake in search of wind and was able to locate some at the far south end.  By race time I had returned to the CYC dock where all the die hard racers where waiting for me to give them the news that the wind was coming.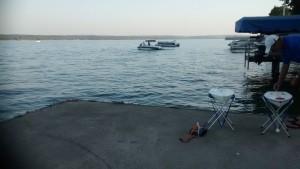 As long as I had Jack's powerboat I thought it would be a good idea to check it out as a mark set boat.  The boat worked fine but the positioning of the marks without wind was a bit of a challenge.
There was a brief moment when I heard others whispering that there would be no wind today but I had been to the south end and knew it would be coming our way.  Yep, soon after that we had just enough wind to get in 3 races before it was gone for good.
A warm welcome to our newest member to join our fleet and race with us  – Mike Wash  – who brings RC #173 to us from Oxford Maryland.  Look for him to be a strong contender having had a little practice with a Laser before racing with us.
As it stands right now it is still Nate Heinzelman in front with 2 more weeks of racing to go in the Fall Series.  "RESULTS"
Next week we have moved our schedule up (2-3:45 PM off the south dock) in order to allow those that so graciously volunteered there time during the year for race committee to be recognized.
Week 5  Oct. 1st 2PM
See you on the water.
The Admiral