Although the day was full of rain in most parts of the county it showed up only briefly at Holiday Harbor.  With only a 10 minute delay we raced rain free for the better part of two hours.  The wind came mostly from the south east which made it difficult to get a steady wind from any one direction, but that did not interfere with Sean Quigley who won 6 of 8 races and the other 2 wins going to Nate Heinzelman.  After all the scores were tallied it will come down to the last day of the Frostbite series to determine a winner.  Currently Sean and Nate are tied so it should be a very close finish.  "RESULTS"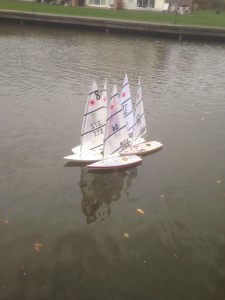 It took team work to get Bill Schmidt and Jay Niggli back to the docks.  They lock booms together and no one offered to get in a kayak to help.  It was easier to push them in the desired direction until captured.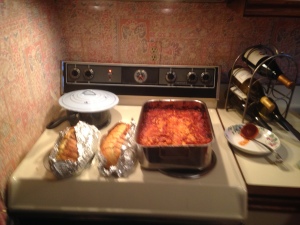 The real winners of the day were all of us who feasted on Mary's Lasagna which she so perfectly prepared.  May the tradition continue (Mary's Lasagna once a year).
Sunday Nov. 12th will be the final day of racing for the series and the year.  We will be at Holiday Harbor once more from 2-4 pm to determine the winner and then put our boats to rest until Spring.