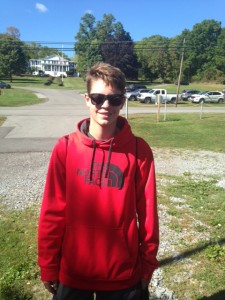 Before the first race even started Sean had a failing rudder servo and was not able to compete very well using our spare boat.  After a few races we did take a break to wait for wind which have him time to change the servo in his boat which made enough of a difference for him to race well enough to hold off Jay. "RESULTS"
There wasn't much wind and it was very spotty at best.  If you weren't in that finger of air you just didn't move.  Despite the absence of wind we were able to complete six races for the day before retiring inside for Anne's chili, Richards homemade soup, Anna's garlic bread , and then topped off with Danny's apple and pecan pie.
It is the end of the racing season for us but there is always racing taking place somewhere this winter for anyone who finds the time and has the desire to keep competing. Just go to: www.RCLaser.org to find an event.
We will begin our Spring Series on April 8, 2018 at Holiday Harbor. Check the calendar for times.
Thank you everyone for making this another wonderful racing year.
Until next year
Happy Holidays to All  !!!!!!!!!!!!!!!!!!!!!!!!!!!!!!
The Admiral