After what was a somewhat slow start everyone got organized and in the water to begin week 2 of our spring series.  It must have been that the cooler weather in the morning was affecting everyone's blood flow.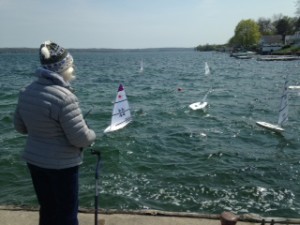 By afternoon Barb was still convinced that it was cold but my forecast held true to form.  Partly sunny, winds out of the east at 8-10, and temps around 65 Fahrenheit.
Jonathan and Anna Gorbold returned from a trip abroad ready to race.  Out of the 7 races that we had Jonathan had 4 wins, 2 seconds and 1 third.  Nate Heinzelman had 2 wins and Bill Schmidt was able to pull off one.  "RESULTS"
Next week we will be moving our starting time to 4pm so that those pesky big sailboats have room to get in and out of the water. Maybe with the later start we will all show up before the start time of the first race.
See you Sunday May 7th for week 3 of the spring series.
The Admiral!!!!
PS Following racing that day all the J-22 racers are invited to attend a fleet meeting at John Wright's home scheduled for 7PM.