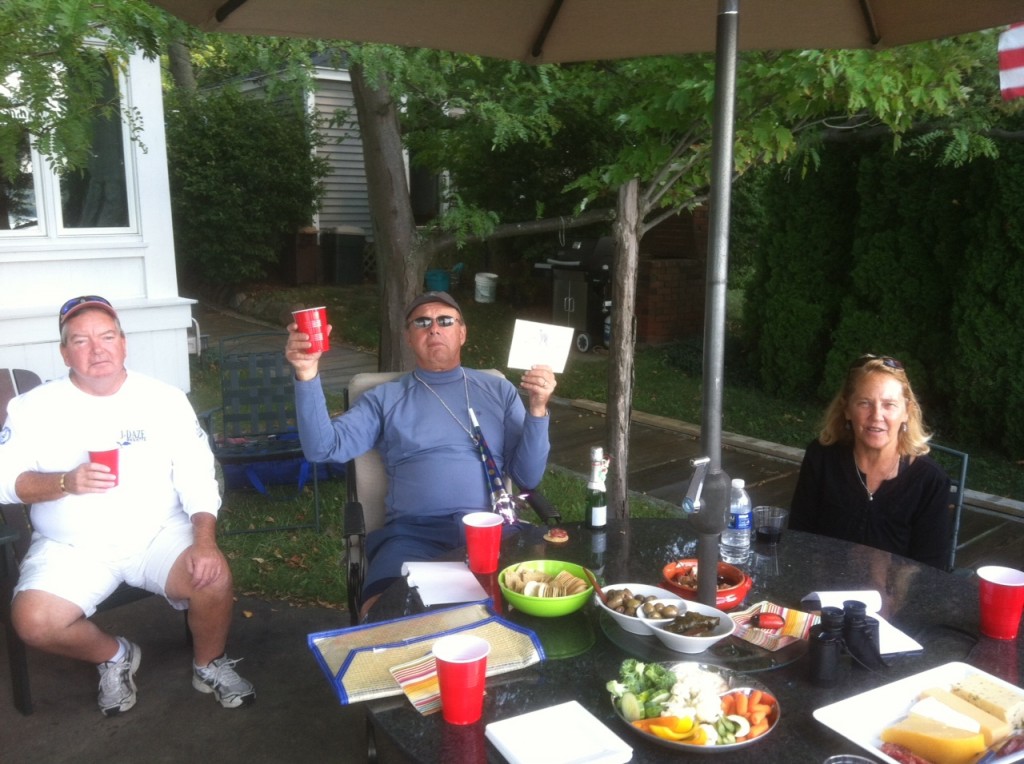 Race Report by Admiral Nelson.
The weather was just perfect. The wind was out of the northwest and the west and the southwest for much of the race and at times was not there at all, for which Anne was thankful.
The race from the Canandaigua Yacht Club across the lake to Neil and Maggie Atkins' house 2.5 miles away took about an hour and a half to complete and everyone finished with an excuse for not winning.
Nelson, who was leading for much of the way, gave up the lead to Jonathan by making a left turn to the house that wasn't Maggie and Neil's.
Jay Niggli was following Nelson which turned out to be a not so good idea.
Bill Schmidt tried to hug the shoreline but was stopped short of the house by a sea urchin (we believe it was just seaweed).
Terry Scmidt and Jack Bennett approached the dock with caution trying to avoid the same calamity as Bill.
Upon arrival we were all graciously greeted by our hosts, Maggie and Neil, who did their "usual" by putting on a spread that we all enjoyed for hours.
We did set out marks and conducted a few races but soon gave up due to all the weeds catching on the keels of our boats. (Could have been caused by the fight Bill's boat had with that sea urchin.)
The food and drinks were our main focus for the remainder of the day and Jonathan showing off his $1,000,000 bill, his bubbly, and his horn that he tooted occasionally.