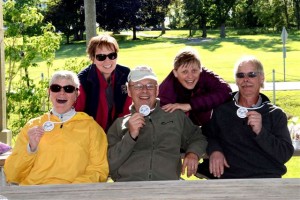 Winds were out of the north at 18 to 23 knots, it was chilly and cloudy most of the day. Once out on the lake there were white caps and puffs you could see coming 500 yards away. Just perfect for a 2 mile RC race.  We cancelled the idea of Jay using his canoe and Anne refused to kayak me behind her so it was decided that pairing up would be the best solution. I could hear the girls whispering on the other side of a J-24 that the winds were strong and they thought they would do better if the girls were all in one boat. (Something about not having to "put up with the guys"). And so the stage was set:
Girls would use Jack's boat driven by Leslie Bennett. On board would be Maggie and Terry sailing with Anne on board to coach.
The guys would be Jonathan and Jay driven by Anna in Sue Raymond's boat, Dick Hallagan in one of our club crash boats driven by John Wright, and Neil and myself in the other crash boat driven by Mike Weber.
Girls were off to a fast start and maintained their lead- Halfway through the race Coach Anne called for Female "F-O-C-U-S" as the men were in sight.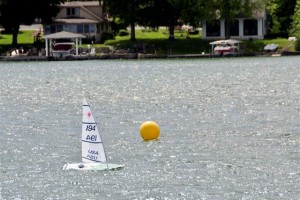 Maggie rounded the island mark first–which was no easy task– Wind Conditions were strong and swirling– forcing more jibes than tacks.
Jay was next to the mark-but he got hung up with the winds.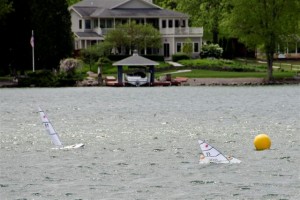 Terry managed to edge out Jay and round the mark 2nd.
Maggie was way ahead down the stretch-so far ahead of her crash boat it was hard to tell her point of sail–but she kept sailing!
Next sighting was Jay on the west coast — enjoying a more controlled and fast  inland sail- So It was Maggie & Jay and then Jay & Maggie  as they approached the south dock around the mooring field. Other boats were quickly catching up as they approached the finish of the race.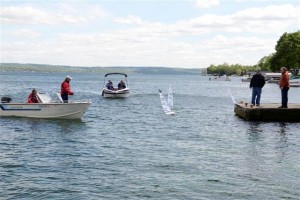 The Finish causes change in rules- The outcome may have been different if the boats didn't have to come out of the water-
1. Surely Terry would have been Dry
2. Jack's Boat would have fewer dings.
3. And Maggie with her competitive racing skills and being the lady she is would not have had to give way to anyone.
Therefore Next year's rule change will be that boats must cross start line to finish-and need not come out of the water.
You just can't put 2 chase boats in the same spot- and that was the closeness of this Race– It was a Splashy- Photo- Finish!
Squaw Island Video  This video is rated PG.  I can't believe that there was no adult language.
The official order of finish was:
1. Jay Niggli in 1 hour and 20 minutes
2. Jonathan Gorbold 1 hour and 21 minutes
3. Scored a tie between Maggie Atkins and Terry Schmidt 1 hour 21minutes and a little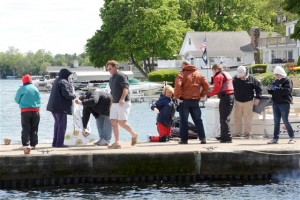 After watching the video our race director determined that while both boats were at the dock together he was not sure if any rules were broken by Terry going into the water to retrieve her boat instead of retrieving boat in the expected manner ie: using a lifter.
5. Dick Hallagan
6. Neil Atkins
7. Nelson Habecker (myself ) The way I see it is that if I am in the top 7 there probably wasn't 8 boats.
We then dried ourselves off and retired to the pavilion for an afternoon cookout.  Due to the speed of the race Jack Bennett who was to bring the potato salad to go with the Hots and Hamburgs arrived at 4:30 .  Just in time for the awards.
2013 Squaw Island Photo Gallery