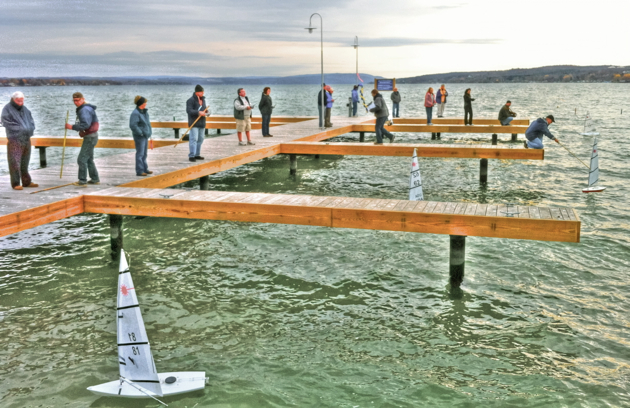 This week was a bit better than last week in the broken gear department. Only three boats has debilitating problems. Jack Bennett's boat (#005) broke a mast. Terry Schmidt (#71)  had a rudder go into the deep. Bill Schmidt's boat (#88) turned turtle when the centerboard just fell off for no reason.
Despite the equipment failures (which seems to be quite a regular thing with the lastest batch of new boats), everyone agreed that the venue on the pump out dock at the north end of Canandaigua Lake was awesome!
A huge "thank you" goes out to Nelson Habecker (#54) for volunteering (and enduring) chase boat duty from his kayak for two hours!
Gary Schmidt (#59) had his RC Laser out for the first time on Sunday and quickly got back in the groove, scoring two bullets and a second in six races. The results through week #5 have been posted. Jay Niggli (#81), Jonathan Gorbold (#62) and Bill Blevins (#254) remain in the top three positions for the series despite several challenging races for each of them tonight in the chop and high "B" sail winds.
The after race party at Jack Bennett's house along with great food and the"Tale of Several Cities" slideshow presentation from Blaise's trip to Europe this summer was a great way to end a really good day of racing.
Next week racing will be at Nelson and Anne's place in Holiday Harbor. To get to the race area, turn into Holiday Harbor off of West Lake Road and then make the first right hand turn and drive in to the end. Park on the right side of the lot.