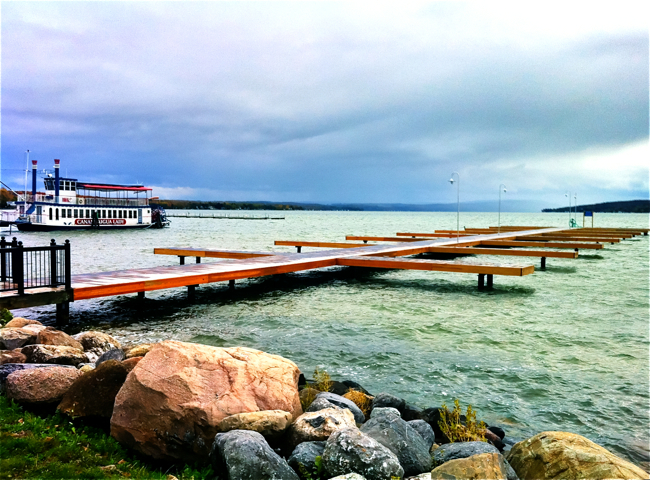 Frostbite week #5 will be held on the new docks just west of the Canandaigua Lady at the north end of Canandaigua Lake.
The brand new "pump-out" dock is directly behind the Steamboat Landing restaurant and there is plenty of parking on each side of the property.
Racing should be great because the weather forecast is again calling for moderate temperatures with breezy conditions and sunny skies. This venue is great because long race courses can be set for any wind direction and the sailors can see everything from a spacious T at the end of the pier. We should get in quite a few races on Sunday!
If you are spectating, bring a chair as there are only a couple of fixed benches on shore.
Due to all of the equipment failures last week (ie: multiple rudders inexplicably falling off of boats last week and the fact that the RC Laser distributor site still shows that rudders are out of stock) Nelson Habecker (#54) has agreed to be the race PRO for the afternoon.
A quick friendly reminder to skippers…
If you finish a race first, clear your RC Laser from the finish line area and immediately start looking for the results clipboard. Don't try to remember numbers in your head. As the second boat crosses the line, that skipper should begin calling out the remaining finish numbers. It is the responsibility of the first place finisher, along with the second place finisher to accurately record all of the places unless you are relieved of the duty by someone else who is not sailing.
We'll be out setting the course early so come on down and enjoy the afternoon with us!