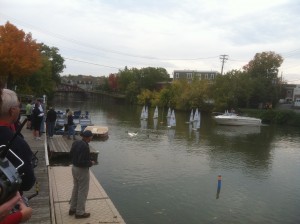 Racing on the Erie Canal can be very challenging.  Not only for RC Lasers but other boats as well.  "The boat in this photo is not the mark set boat."
Fleet 14 held 5 races on Sunday afternoon  in diminishing winds and strong currents.  "A" sails the entire afternoon.
Fortunately for Neil Atkins (#172) paddle boats were available for rent at this location as his boat decided to park on the other side of the canal with drained batteries.
Due to conflicts with many of our fleet next Sunday, we will postpone racing until 4:30 PM and will set out marks at the public docks at Kershaw Pack in Canandaigua.  We will get in as many races as possible before the sun starts to set and then retire to Anne & Nelson's cottage at 423 Holiday Harbor for a bit to eat and drink.
As everyone I'm sure is aware, Tracy and Bill Blevins are in their way to a larger pond to sail in.  My first order of business as fleet captain is to extend our thanks for all they have done for our fleet and to award them honorary membership in our fleet. What that means is that while they won't be participating in the races we have here, when any of us are traveling in their direction with a laser in hand, racing may be held at a location of their choice and results will be scored towards the high point series of that year. So if you find yourself in need of a higher score just visit Tracy and Bill and your sure to pick up at least a third place finish.