We did not have to worry about using suntan lotion on this May day.  Once again it felt like early November but 7 of us did show up to  race for a couple of hours.  There actually was a conversation as to whether or not you could get frostbite if the temperature was above 32 degrees.  I suggested that we not find out.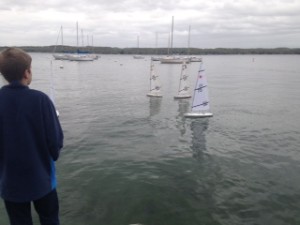 We started with downwind starts to the east and ended with Gary Schmidt moving the marks to race north and south for the final race of the day.  Most of the time the wind remained just off shore which made it difficult to keep our boats moving around the windward mark.  We did manage to get in 6 races that were very close due to the lack of wind when sailing the final leg.
Sean Quigley (one of our junior racers) captured the day by winning 3 of the races followed  by Nate Heinzelman with one and Jonathan Gorbold having one.
Next week (Mother's Day) we will once again be racing from the south dock CYC 4-6pm hopefully with much better weather.
If you would like to know the specs of your laser check out this link:
Tips on sailing your laser can be found here: