And it's The Admiral(54) in front by five after throwing a shoe, followed by Jay(81), a gap of two back to Gary(59),and then Terry(71) close to overtaking Jonathan(62).
With just one week to go it is looking like The Admiral may take the win if his boat doesn't throw another shoe (keel).
There were plenty of spectators on hand this day to observe this highly contested race.  Some wanting to cheer on there favorite boat and others just wanting to get out of the sun.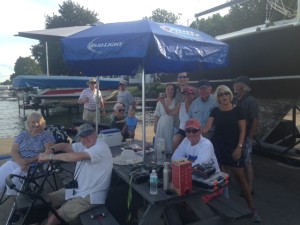 August 20th will be the finale of our Summer Series which will determine the payouts for this race.
Fear not though, we will begin our 6 week Fall series the following week (August 27th) at 4:30 pm off the south dock.
The Admiral