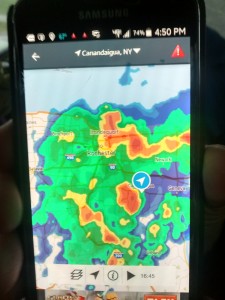 Around the clubhouse turn we go, and it is Jonathan (62) maintaining a comfortable 1&1/2 length lead over Sean (16) who has a 2 length lead over Nelson (54) with Jay (81) a neck back on the outside and a gap of 2 to Jack (005), Terry (71) and the rest of the field. "RESULTS"
There was a lot of bumping and impeding other boats going into the turn but you wouldn't expect anything else with Jack in the race.
The day was about as messy as the radar.  In the middle of the second race the course was shortened to one lap in order to get everyone's boat to shore and pack up before the storms.  No more racing but an excellent opportunity to show our hospitality to Jack Ward (48) who was nice enough to bring his laser up from Florida to race with us and finishing second and third respectively .
With everyone chomping at the bit to get back out there we will not be racing July 2nd so that all can enjoy the holiday weekend, but will again be at the south dock 4-6pm on Sunday July 9th as we head for the backstretch.
Second Son by Talc!!!!