It was an interesting day with temps that of Summer not Fall.
We completed six races on the first day of our Frostbite Series with winds that started at the top of the "A" sail and then declined to a crawl for our boats.  The "results" were very mixed with five different winners out of the six races.  The only racer to win two was Mike Wash (#173) who won the two final races of the day.
Next Sunday we are moving our racing to 423 Holiday Harbor where we can quickly get into the cottage for shelter if needed.  The forecast is for things to change by next Sunday.
We were supposed to take a road trip to the Erie Canal but have been forced to cancel it.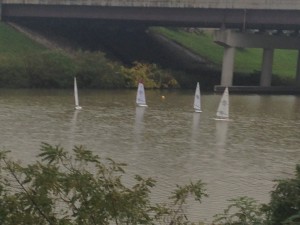 For some reason the area where we were to race has been chained off with do not trespass signs to keep us out.   I think it may be that we violated their dress code last year.
Following racing we are all invited back into the cottage to enjoy some of Mary's home made lasagna and stories of the day.
Also:
Just as a reminder:
Annual dues for Fleet #14 RC Lasers expires at the end of October 2017. Your payment of $20 makes you an active member from 11/01/17 thru 10/31/18.
You can pay your dues online if you wish! Click here. Or in person to Maggie Atkins or Nelson Habecker
Thank you for your membership.
See you on the water!!!!!