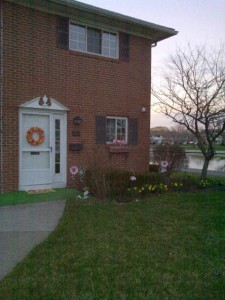 First, I would like to extend a warm welcome to our newest female RC racer Barb Urich and her crew Tom Howard. (As crew, Tom's assignment is to change batteries if necessary).  They showed up with a brand new boat and got a feeling for what the winds are like at Holiday Harbor.
Racers began showing up around 1PM at the launching pad (423 Holiday Harbor) to prepare their RCs to Race.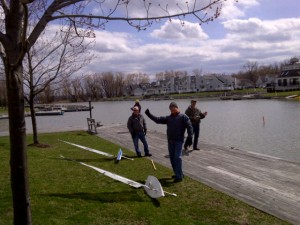 After careful assessment of wind speed and direction it is decided by all that the "A" sail would be best for this endurance race.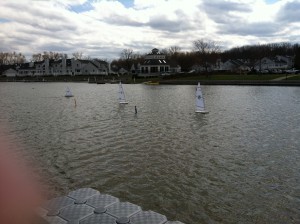 The finish on both the race over and back came down to whoever could best hold off a challenge.
Here is the official order of finish and  payouts WIN  PLACE  SHOW:
Race Over:
Jonathan Gorbold  $3.00   $2.60   $2.10
Bill Schmidt                         $2.80   $2.60
Jay Niggli                                          $2.60
Race Back:
Jay Niggli                   $8.00   $2.80   $2.40
Jonathan Gorbold                  $2.20    $2.10
Bill Schmidt                                            $2.10
In case you are all wondering, Admiral Nelson's boat was scratched from the races due to an unsound main sail servo.  (I swear that Anne's down in the den when I'm in bed).
First let me update you on the event and then Ill finish the story of my day.
Upon finishing the race over and back there was still time for another 3 races off the dock.  You can check out the full results here.  (R14-R18)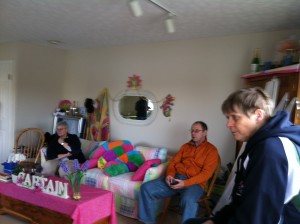 Then we all settled in for a wonderful bowl of Chicken Chili (created & delivered by Terry Schmidt), a sausage sandwich and a glass of wine.  (I'm not so sure that we don't just show up for the food rather than the racing????)
Next Sunday (4/21) we will be back at Riley Lake from 2 -4 PM and this time the Admiral's boat will be ready.  Why you ask?  Because:
on Saturday April 20th Jonathan & Anna will be hosting an informal workshop to help all of us repair, maintain, and race our Lasers.  We will go through a preseason maintenance checklist for the boat, servos, lines, batteries, receiver, transmitter, sails, booms and masts. This will be a hands on, fix it session so everyone can learn how to do it.
If you are new to the fleet and have a new boat that you would like help in setting up bring it along and we will help you..
The time will be 3:30 pm till 5:30 pm April 20th at
Chili or Black Bean soup will be on hand and a glass of wine to satisfy our hunger.  If you are interested in attending the workshop please reply to eal@onecommail.com (Admiral Nelson) with a yes so we might be able to plan the food and drinks.
OH YES, about my day.   I'm always hungry when it's over and I love to wine a little.