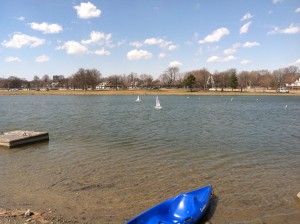 Just another day of racing if you chose the right sail.  Len Redon is the only boat to use the "D Sail" on this peaceful afternoon. He posted 3 wins 2 seconds and 1 third out of nine races to prove that the "D" was the way to go.  He was followed closely by Jay Niggli who also was able to win 3 races with his "C" sail.
I actually practiced with a "B" sail prior to racing  but changed to a "C' as race time approached.  It is no doubt that every race had the wind speed turned up a notch.  Unfortunately no one took a picture when Anna called out "all clear" and every boat was 10 feet from the starting line laying down sideways in one of the frequent 30+ gusts that came through.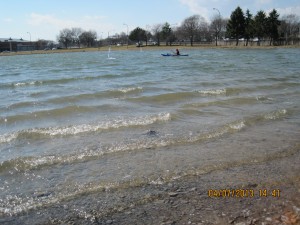 By the time we wrapped it up white caps were the norm.  You can check out the full results here.
Next week we will be racing at 423 Holiday Harbor Cdga. in our annual "Walkabout" race.  We will race into and out of all the channels on a .8 mile race to the other side of Holiday Harbor.  We will then collect ourselves and race back .  Depending on the time remaining we will have shorter races to finish out the 2pm -4pm program.
Anne is planning some sort of crock pot idea following racing so that there will be some type of reward for those who partake.
Then:
On Saturday April 20th Jonathan & Anna will be hosting an informal workshop to help all of us repair, maintain, and race our Lasers.  We will go through a preseason maintenance checklist for the boat, servos, lines, batteries, receiver, transmitter, sails, booms and masts. This will be a hands on, fix it session so everyone can learn how to do it.
If you are new to the fleet and have a new boat that you would like help in setting up bring it along and we will help you..
The time will be 3:30 pm till 5:30 pm April 20th at
Chili or Black Bean soup will be on hand and a glass of wine to satisfy our hunger.  If you are interested in attending the workshop please reply to eal@onecommail.com (Admiral Nelson) with a yes so we might be able to plan the food and drinks.